Try a Free Meditation
Try out this three-minute breathing space mediation with Elaine Smookler.
Are you ready to get started with mindfulness?
Mindfulness is the basic human ability to be fully present, aware of where you are and what you're doing, and not overly reactive to or overwhelmed by what's going on around you. And while mindfulness is a skill that every human being naturally possesses (yes, you too!), it's strengthened through meditation, and with short pauses inserted into your day.
In this course, you'll learn practices and exercises to help you tap into your own natural state of mindfulness. You can apply these wherever you are, anytime you feel stressed, anxious, or in need of greater clarity and focus, right away and for the rest of your life.
You'll learn to:
Drop into a state of calm, expansive perspective whenever you need it
Defuse a stress spiral in minutes
Interact with the world with less angst and more kindness
Experience greater spaciousness and freedom in any situation
Improve your relationships, including the one with yourself
Transform your experience of pain, even with chronic conditions
Create awareness of how your default thoughts and reactions control your mind and behaviours, and instead choose how you want to be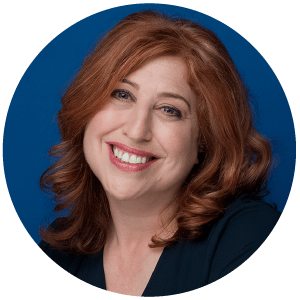 Elaine is a registered psychotherapist, teacher, writer, and performer who uses innovative methods to help individuals and businesses develop mindfulness and resilience in everyday life. She's on the faculty at the Centre for Mindfulness Studies in Toronto, where she offers introductory and clinical programs including Mindfulness-Based Cognitive Therapy and Mindfulness-Based Stress Reduction. She has taught at the University of Toronto medical school and was a long-time facilitator of The Mindfulness Project at SickKids hospital.
Testimonials
"Elaine is a wonderful teacher, she is non-judgemental and cheerful - which in my mind is hard to find! I like her calm but energetic demeanour, because I find that some therapists and mindfulness teachers can have a "sedated" way of speaking, which I personally don't click with. Elaine skillfully shows an incremental yet deep pathway to becoming better at practicing mindfulness. I highly recommend this course!"
-Lyubov L.
"I have been practicing Mindfulness on my own for about a year now, and this really puts it all in perspective for me. I am beginning to understand what it is, and what it is not, which I am sure will give me a much richer and more effective practice in my life."
-Connie S.
"Elaine is great - so funny, so down to earth, so realistic about what to expect. She explains things well, and says things that really resonate."
-Susan R.
"I am new to mindfulness and am learning so much since taking this course."
-Kathryn W.
Visit the FAQ for this course here.
You May Be Interested In...